---
NFAA Outdoor Nationals are finally complete as of Sept 2020! Congratulations to all the shooters and especially our CD Archery family! Here are some of the results: Thanks to Bow Junky Media for most of the pictures. Field: 1st AMTRAD Tom Johnson. 1st SMTRAD Chad Coody. 1st SSTRAD Ren Sarns. 1st SMBBR Rick Stonebraker. Target: 1st SSMTRAD Tom Johnson. 2nd SSMTAD Ren Sarns. 1st SMBBR Rick Stonebraker. 1t SMTRAD Tom Ramsbacher. 2nd AFBBR Amy Rayner-Cooley. First Dakota Barebow Recurve Flight: 3rd Marcus Cooley.
---
2020 USA Archery Indoor Nat'l in Yankton SD were held in Sept. after a very trying year! Here are some results for our CD WF shooters!  2019 Indoor Finals Silver Medalist, Glen Thomas pulled off the Recurve Men's Bronze in a tight 6-4 match with his WF27XO! Congratulations to Glen!  If you get a chance, check out the USA  live Finals to see the exciting match between John Winker and Jarrett Kellan with John taking the Gold with his WF29XO! Also Congratulations to Rick Stonebraker for the 4th place position shooting his WF29XO also! CD risers were everywhere! Just goes to prove that a good riser in the hands of a good shooter is a winning combination!
---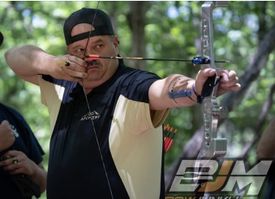 Congratulations to our own Dewayne Martin for his 1st Place Win at the IBO 1st Leg of the Triple Crown on June 13, 2021 at Pipestem WV! Great shooting Dewayne with a huge big score of 384! He loves his WF29XO!
---
The Vegas Shoot took place Feb 7-9, 2020 and it exceeded all past numbers!  We can tell you that CD Archery risers were everywhere you looked! And our shooters did exceptionally well!  Congratulations to John Winker for his Second Place finish in the Barebow Flights taking home a check from NFAA and also a check from CD Archery!  Also shooting outstanding was Spanky Brooks placing 5th and Kyle Olson placing 12th.  After that, you will find among others, Calvin Smock, Bill Hunter and Lee Collins.  Alas we didn't get a complete list.  Check out their website for official pictures and stats and results.  Here are some pictures from The 2020 Vegas Shoot.
---
Congratulations to the Men's Barebow winners at the 2020 Lancaster Classic!  Be sure to check out the Youtube video to watch the exciting finals!  You will get to see John Dillinger get the win over Michael Fisher from Australia but you will also get to see our own Joakim Hassila from Sweden take the Third Place title on the most watch Lancaster Archery video's each year! If your thinking the payouts this year were good, Rob promises an even better payout for 2021! Don't miss this shoot!  https://youtu.be/UTN2DOOLCBc   
---
After a great TAS shoot last weekend, June 1, 2019, We have winners of CD Archery Cash! Congratulations to Sam Taylor for 1st Mens for $100, and Tony Allen for 2nd for $50, and Santo Armano for 3rd for $25 cash! Congratulations for the Women to Kim Timberlake for 1st for $100, Fawn Girard for 2nd and $50 and Nancy Norris for 3rd for $25 Cash! Great weekend with cash awards!
---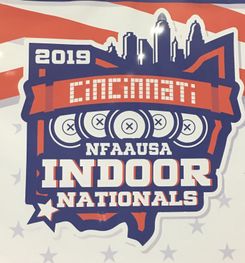 Indoor is coming to an end at the Cincinnati NFAA USA Indoor Nationals for 2019! See you there!
---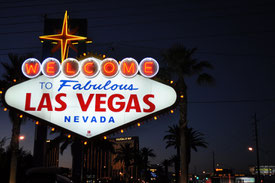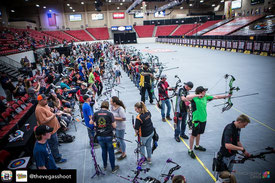 The Vegas Shoot coming next! Are you going? 3,600 shooters are from 54 countries! Make this your shooting vacation and be there Feb 7-10, 2019! We are!
---
Congratulations to the TOP 4 at the 2019 Lancaster Classic held January 2019! What a nail biter it was!  Congratulations to our new friend Michael Fisher for taking First Place and our old friend Grayson Partlowe for Second.  Shooting their WF27XO's were Spanky Brooks for Third and Ben Rogers for Fourth.  If you haven't watched the Lancaster YouTube for this event you need to! I'll try to attach a link:
https://www.facebook.com/247381324253/posts/10156950626144254/  It continues to be the most watched YouTube from the Lancaster Classic events every year. If you shoot Barebow, you need to put this event on your calendar and make a week of touring around what the surroundings of this area have to offer. So on top of the greatest shooting event you can find anywhere, you have an area of history along with the opportunity to meet all your FB friends from all over the world.  Want to meet that guy you watch from Italy? Or that lady from Sweden? Come here and you can do that too! 2019 had over 200 registered Barebow shooters. he world.  Next year there will be a Ladies Barebow class! Plan this one!!
---

2019 Lancaster Classic coming up next! Watch for exciting results! 205 Barebow shooters and lots with CD Archery risers! Cash to be had in prizes at this growing event!
---
---
Congratulations to the top men in the Barebow Masters! In order: Richard Barker, Richard Stonebraker, and our own Calvin Smock with his WF27XO, then Steve Caufman.  This is something new for us to attend to see just what our new WF27XO can do! Look for more of them at National and USA events!
---
Congratulations to all our winners at the 2018 IBO Worlds in Snowshoe WV!  Congratulations to Dewayne Martin for his Second Place position in Men's RU and the Women, Kim Timberlake for her First Place win and Joella Bates for her Third place showing in FTRAD and also Sydney Phipps for her Win in the Youth Class! Time for her to graduate and play with the big girls!
Congratulations to Mike Wilson for his First Place win at the 2018 IBO Worlds at Snowshoe in Men's Trad! Great shooting Mike!!
---
Congratulations to Bobby Worthington and Joella Bates for taking First in Shooter of the Year and Calvin Smock for taking 3rd at the ASA Classic last weekend, August 1, 2018 in Cullman Alabama.  Note the new beautifully designed 25th Anniversary belt buckles!  Congratulations to all our CD Archery shooters for a great ASA year!
---
Congratulations to our winners at the ASA Delta McKenzie Classic last weekend in Cullman, Alabama!  Men's winners were, Chris Spikes 1st, Bobby Worthington 2nd and Bert Sullivan 3rd.  Women's winners were, 1st Joella Bates & 2nd went to Fleanna Chadwell.  Chris Spikes wasn't shooting our riser here, but he is a part of our Barebow family! Joella Bates asked for a little help, so Calvin was willing to do whatever he could!  Great shooting all!
---
Congratulations to Sydney Phipps on her 1st Place Win May 20, 2018 at the IBO 1st Leg of the Triple Crown!  What a way to start 2018 Syd!!
Also congratulations to all our other shooters at the IBO 1st Leg including Joella Bates, 1st, and Kim Timberlake, 2d in Womens Trad.  Also Mike Wilson for 2nd in SRTRAD and Bill Chouinard 1st, and Bert Sullivan 3rd in Men's TRAD.  Also Dewayne Martin took 2nd in RU.  We have so many CD Archery shooters starting out the year great even under trying weather conditions! Keep it up!
---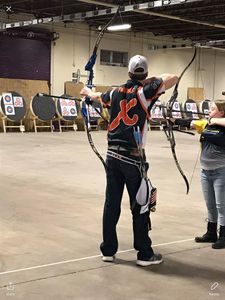 Congratulations once again to Glen Thomas for ANOTHER win with his WF27XO at the PA State Tournament!                               He is HOT!
---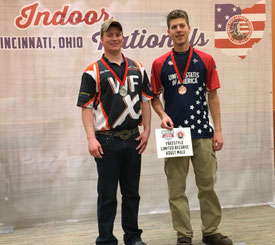 ---
GLEN THOMAS WINS VEGAS!
Congratulations to Glen Thomas for finishing FIRST in Olympic Recurve Flight at the 2018 Las Vegas Shoot with our brand new WF27XO! What a great start for our newest riser! It's in good hands! Look for Glen Thomas in 2018!
---

2018 Lancaster Classic is complete!  Congratulations once again to Dewayne Martin and Bobby Worthington for representing CD Archery in the top 4 shooters!  Once again an exciting thing to watch!  Winners placements were Bobby Worthington 4th, Dewayne Martin 3rd, John Demmer III 2nd, and Richard Barker 1st.
---
---


2017 Lancaster Classic winners!
1ST Place - John Demmer
2ND Place - Bobby Worthington
3RD Place - Scott Bills
Also 4th Place- Dewayne Martin
---