Congratulations to all the USA Team members attending the 2022 PanAmericano & Para PanAmericano shoot in Santiago, Chile!  Go to the USA Archery page for all the exciting finishes for the total USA Team that includes lots of GOLD finishes!  Here are some pictures taken from various places including USA Archery and personal posts.  The Men's BB Team consisting of Rick Stonebraker, Marcus Cooley, both shooting their CD WFX risers, and Matt Yacca finishes with a Gold First Place beating out Argentina!  Also on the Argentina Team is German Cane shooting his CD WFX27.  You never know where you're going to see one of our risers!!  Then on the individual Men's BB, look at that line up!  USA Men placed 4 places in the top 5 positions! Congratulations especially to Marcus Cooley getting Silver in that Competition!  Well deserved Marcus!  We hear they all had a great time there!  Be sure to ask those you know about their time there.  You'll get some very exciting stories!
---
Did you see the Australian National Target Championship in Queensland last weekend?  Mark Bartlett not only got a silver medal WA 60/900, gold medal WA 70/1440 and gold medal Male BB Teams Matchplay and bronze Male Individual Matchplay, he also received the Archery Australian Best All-Around Archer award for Male BB!  He also received he first Australian televised Barebow yellow card during a competition!! What?? Also Congratulations to Cirilo Almario competing at the same event for his bronze medal for the WA 60/700 ranking 3rd on the qualifying for the Australian Open 2022 Matchplay with just 5 points behind 1st!  Cirilo also got gold in the Men's BB Team Shoot right there with Mark! What a team!  Both shooting their WF29XO beauties!  Ci also got a silver in the mixed BB Team event!  What a great weekend for a couple of great shooters!!
---
RINEHART 3DARCHERY WORLD CHAMPIONSHIP IN TERNI, ITALY 2022 IS A WRAP!
Congratulations once again to all the USA shooters participating in the 2022 3DArchery World Championship in Terni, Italy!  After the first day of qualifications, of 24 US shooters, 16 moved forward into the elimination rounds.  On to the finals, we still had 4 moving to the Bronze medal matches.  Congratulations to Shiloh Butts for his Bronze Medal 3rd Place finish in the Men's Longbow class.  He was shooting and winning some amazing matches!  Of our own CDWX shooters, Congratulations to Daniel Colloms who finished 4th in the Men's BB class and also to Dewayne Martin finishing 7th in that class.  Also Congratulations to Laura Hughes who finished 5th in the Women's BB Class and Sydney Phipps who finished 15th in that class.  This was a very tough challenging course, and if you were there, you know what I mean.  There was scorching sun, torrential down pours with water everywhere, obstacles on the ground, and hills and holes everywhere!  There was even a few local free range obstacles roaming about! Was also great to see and meet others from outside the US!  Hello to Billy Sanderson of Canada, Mikel Bo Hansen from Denmark and Roberto Escamilla from Mexico.  Let us know if we missed anyone as it's hard to catch them all!  If you want to watch the finals, go to the Youtube video at https://youtube.com/watch?v=1RWLL0h0Bz4  I do hope that works for you, you may have to cut and paste.  Thanks to World Archery and others for some of the pictures used here.
---
Congratulations to our shooter, Watcharapong Noimunwai, from Thailand on his exciting win in the 2022 Thailand Championships with his WF25X!  If you see him out there be sure to congratulate him! We love his joy you can see in his pictures! Archery does that! It's a huge circle of friends in archery. Be a part of it!
---
The 2022 Swedish 3D-SM Championship results are in!  Some outstanding shooting by some well known Swedish shooters never disappoints! Congratulations to the top 3 in some back and forth positions over the two day shoot puts Fredrik Lundmark in 1st, Leo Pettersson in 2nd, and Mats Axeflod in 3rd with his WFX CD riser!  Who wouldn't love to be shooting a 3D course with these guys??
---
Congratulations to Christoph Wenk who finished 3rd in the German 3D Championships on August 20, 2022, after winning their State Championship last month. And with his WF21 too! Don't let anyone tell you the WF21 is only for huntig! Great shooting Christoph!
---
Congratulations to a brand new WF shooter already on the podium! Tomáš Veverka was shooting his new WF27X on the winning team Champions of the Czech Republic last weekend, June 27, 2021. Congratulations Tomáš ! Outstanding shooting!
---
Congratulation to our shooter Manual Szakacs from Austria, on his outstanding Second Place finish in Jenesien, Italy, last weekend, June 12, 2021 shooting his WF25X!  He  was right behind the reigning European champion, Eric Esposito!  We love to see how many places our risers go and hear the shooters success stories! Great shooting Manuel!
---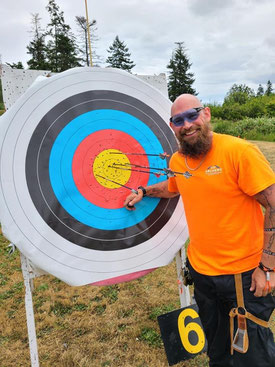 An officially broken Canadian National Archery Record!!! Billy Sanderson has been training and working hard to chase down a 15 year old record for the Canadian Senior Men's Barebow 900 round 35m record!  The old record stood at 275 and he shot a 277!!!  Also coming within 6 points of the overall record as well!  If you missed it, he just did this on June 12, 2021 with his new WF29X!   We are so very happy for Billy and his 2021 great shooting!!
---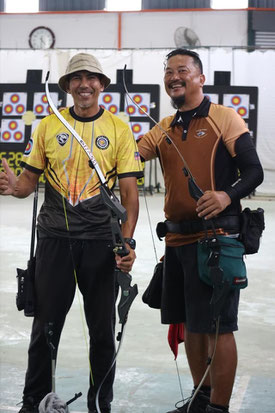 Meet two shooters from Malaysia! Sam Cheong (right) is with a new CD Shooter, En Yazid who finished 7th at an 18 meter indoor meet featuring a Vegas 3-spot and finished 7th with his brand new WF25X! Better watch out for these two!
---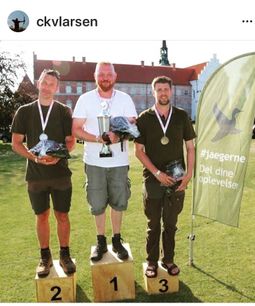 Congratulations to Claus Vigen Larson Pindbo for his win at the 2019 Denmark National Championship in the Hunting rounds with his WF19! Not only does the WF19 come through for you on your hunts, it also does not fail for competitions!  It proves to be reliable for any of your needs! Congratulations Claus!
---
Congratulations to Sam Cheong for the Team Gold at the 2019 Singapore National Games August 3rd weekend!  What an exciting journey for him & his teammates! Singapore really does it well!  We're so glad Sam is shooting a CD riser so we can follow his journey! Congratulations Sam!
---
Canadian National 3D Archery results are in!  Congratulations to Alex Melnik for his GOLD medal place and Tyler Moore shooting for Bronze last weekend, August 3, 2019! Great shooting for our CD Archery shooters!
---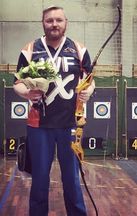 Another Indoor Season is in the books for Claus Vigen Larson Pindbo with another National Championship Gold for the CD WF27XO Orange Monster!  We are so happy Claus is shooting our product in Denmark! 
---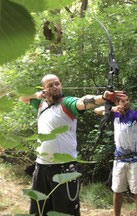 Say Hello to Gustavo Montangie from Argentina! He only had his new WFX25 in his hands a week with amazing results!  He shot a personal best and landed right on the podium in field! This is a very happy CD Archery shooter!
---
Congratulations to Claus Vigen Pindbo on taking GOLD with his "Orange Hammer"in Denmark last weekend to end his year with a Gold!  We are so pleased with his shooting this year and hope to continue posting podium finishes going forward! Love to see what the WF27XO is still doing in the hands of outstanding shooters all over the Archery World!
---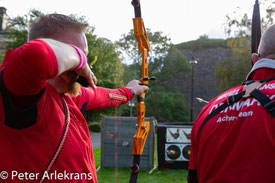 ---
Congratulations to Tyler Moore of Canada for a great year with his new WF25X in the 2018 Canadian 3D Archery National Championships. His hard work paid off with a First Place win in the Barebow Division. We are so pleased with what a good shooter can do with these risers!
---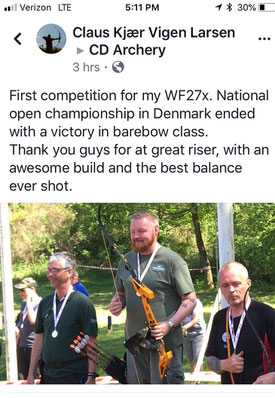 ---
TEAM USA WINS GOLD!!! CONGRATULATIONS TO ALL THE USA SHOOTERS PARTICIPATING IN THE WORLD 3D ARCHERY CHAMPIONSHIP IN ROBION FRANCE SEPTEMBER 19-23, 2017!
DEWAYNE MARTIN SHOOTING OUR WF25X, CALVIN SMOCK SHOOTING HIS 21ST CENTURY LONGBOW AND DALTON RICHARDSON SHOOTING HIS PSE COMPOUND REPRESENTED USA DEFEATING HUNGARY, ITALY AND THEN SPAIN IN THE FINALS IN THE PALACE OF THE  POPES IN AVIGNON FRANCE!  WHAT A PROUD MOMENT IN A BACK AND FORTH FINAL ROUND THAT TOOK US TO THE VERY LAST SHOTS!  TO VIEW VIDEOS, VISIT WORLD 3D ARCHERY WEBSITE OR CHECK OUT OUR CD ARCHERY REVIEWS AND PHOTOS ON INSTAGRAM AND FACEBOOK.  NEXT WORLD 3D TOURNAMENT WILL BE IN ALBERTA CANADA.  STAY TUNED! WE WILL BE THERE!
---