---
Results are in for 2019 National Australia Championships and we have a winner! Dale Holloway has posted his 2019 results! Here is what I can gather:  3DAAA 2019 Shooter of the Year Trad, 3DAAA Nat'l Indoor 1st Place Trad, 3DAAA Nat'l Championship 1st Place Trad, 3DAAA Nat'l Championship Top 10 Unaided, and New South Wales State Point Series Overall Championship Trad.   All with his WFX25.  Also check out Richard Stubbs Peters shooting with his WFX25 also and taking the 3DAAA National Indoor Championship 1st Place in RU!
---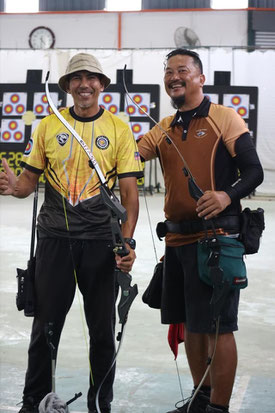 Meet two shooters from Malaysia! Sam Cheong (right) is with a new CD Shooter, En Yazid who finished 7th at an 18 meter indoor meet featuring a Vegas 3-spot and finished 7th with his brand new WF25X! Better watch out for these two!
---
Carol-anne Seez from Scotland is super happy with her NEW WF25X that arrived last Tuesday, August 20, 2019. So this next weekend she tried it out at the Scottish SFAA and set records both days!  We think GOLD suits her! What do you think?
---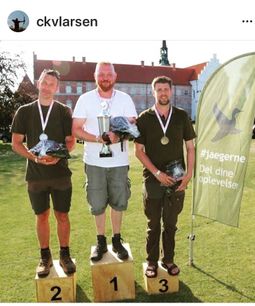 Congratulations to Claus Vigen Larson Pindbo for his win at the 2019 Denmark National Championship in the Hunting rounds with his WF19! Not only does the WF19 come through for you on your hunts, it also does not fail for competitions!  It proves to be reliable for any of your needs! Congratulations Claus!
---
Congratulations to Sam Cheong for the Team Gold at the 2019 Singapore National Games August 3rd weekend!  What an exciting journey for him & his teammates! Singapore really does it well!  We're so glad Sam is shooting a CD riser so we can follow his journey! Congratulations Sam!
---
Canadian National 3D Archery results are in!  Congratulations to Alex Melnik for his GOLD medal place and Tyler Moore shooting for Bronze last weekend, August 3, 2019! Great shooting for our CD Archery shooters!
---
Fantastic shooting by Sergi Cebrian Pujol in the Spanish Field Championship, July 12, 2019, for winning Bronze with his WF27XO!  We love you Sergi!
---
Tyler Moore and Heather Leduc celebrate GOLD medals at the Field Canadian Archery Proincials last weekend, July 12, 2019, with Heather setting a NEW Canadian Record! Congratulations to two great shooters!
---
Congratulations to Alex Melnik for his First Place Win at last weeks (July 6, 2019) Ontario 3D Archery Championships!  Great strong shooting Alex!
---
Congratulations to Heather Leduc from Canada on taking First Place shooting her new CD Archery WFX25 Lite with her new Victory Archery arrows at the Oilmans shoot in Canada this weekend June 1, 2019.  Her very hard work is paying off and we're so glad to add another CD Archery girl!
---
Congratulations to Tyler Moore for his 2nd place position in an one arrow shoot off at the 2019 Archery Canadian 3D Indoor Nationals in Barebow Division this weekend, April 28, 2019!
---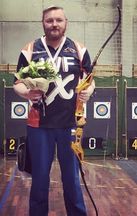 Another Indoor Season is in the books for Claus Vigen Larson Pindbo with another National Championship Gold for the CD WF27XO Orange Monster!  We are so happy Claus is shooting our product in Denmark! 
---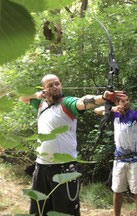 Say Hello to Gustavo Montangie from Argentina! He only had his new WFX25 in his hands a week with amazing results!  He shot a personal best and landed right on the podium in field! This is a very happy CD Archery shooter!
---
Sergi Cebrian Pujol is a STAR!
Here he is in an interview speaking about Archery! He covers the difference between Olympic and Barebow shooting and about his experience with his two WF27XO risers and his next travels to Sweden along with his current projects.  Sergi's enthusiasm in Archery is contagious! We consider CD Archery lucky to have him represent our products!
---
Congratulations to Sergi Cebrian Pujol on his SILVER Medal Finish at the World Field Archery Championship IFAA in South Africa this week, Oct 12, 2018 with his WF25X!  We are so very happy with our shooter from Spain!
---
Congratulations to Claus Vigen Pindbo on taking GOLD with his "Orange Hammer"in Denmark last weekend to end his year with a Gold!  We are so pleased with his shooting this year and hope to continue posting podium finishes going forward! Love to see what the WF27XO is still doing in the hands of outstanding shooters all over the Archery World!
---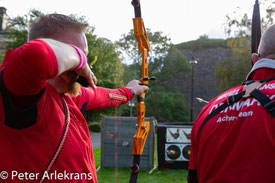 ---
Congratulations to Tyler Moore of Canada for a great year with his new WF25X in the 2018 Canadian 3D Archery National Championships. His hard work paid off with a First Place win in the Barebow Division. We are so pleased with what a good shooter can do with these risers!
---
Congratulations to our newest shooter from Spain! Sergi Sebrian Pujol just won First Place in the Spanish Field Championships June 30, 2018!  Also placing are David Garcia and Cesar Vera.  This is a great victory for our guy Sergi with his new WF25X!  Look for more from him!
Another win in 2018 for Claus Kjaer Vigen Larsen with his WF27XO "Orange Wonder" in the Danish tryouts for the European 3D Championships to be held in Sweden.  "As said before, awesome balance in this riser, awesome color and just the best build quality"! We are so exited to have our newest Olympic Style riser in the hands of a proven winner!
---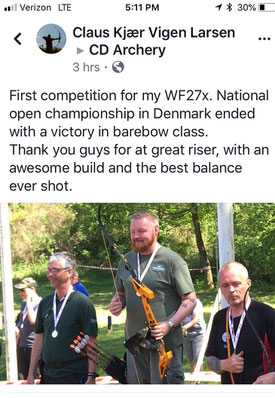 Awesome First Place finish for Claus Kjaer Vigen Larsen at National Open Championship in Denmark in Barebow Class with his new WF27XO riser on May 20, 2018!  What a great start for our brand new 27 Olympic/Barebow riser in the hands of a great shooter!
 We are thrilled!
---
TEAM USA WINS GOLD!!! CONGRATULATIONS TO ALL THE USA SHOOTERS PARTICIPATING IN THE WORLD 3D ARCHERY CHAMPIONSHIP IN ROBION FRANCE SEPTEMBER 19-23, 2017!
DEWAYNE MARTIN SHOOTING OUR WF25X, CALVIN SMOCK SHOOTING HIS 21ST CENTURY LONGBOW AND DALTON RICHARDSON SHOOTING HIS PSE COMPOUND REPRESENTED USA DEFEATING HUNGARY, ITALY AND THEN SPAIN IN THE FINALS IN THE PALACE OF THE  POPES IN AVIGNON FRANCE!  WHAT A PROUD MOMENT IN A BACK AND FORTH FINAL ROUND THAT TOOK US TO THE VERY LAST SHOTS!  TO VIEW VIDEOS, VISIT WORLD 3D ARCHERY WEBSITE OR CHECK OUT OUR CD ARCHERY REVIEWS AND PHOTOS ON INSTAGRAM AND FACEBOOK.  NEXT WORLD 3D TOURNAMENT WILL BE IN ALBERTA CANADA.  STAY TUNED! WE WILL BE THERE!
---
Alan Eagleton wins IFAA World Gold in Australia 2016 with his WFX25! Congratulations Alan!!
---